S.E.A Education is a UK based company, with representative offices in Malaysia and Vietnam. We specialise in developing links for UK universities who wish to establish a solid presence in the region, and also in helping students from the region who wish to study for a UK degree. 

The CEO is Geoff Notcutt. He previously worked for a UK university in senior academic posts, as Head of Department and as Associate Dean. In these roles he gained in depth experience of setting up academic links such as articulations and franchises, and of Quality Assurance procedures at UK universities.

This was followed by 8 years as a Director of the International Office. In this position he gained extensive knowledge and experience of marketing and student recruitment in Africa, south-east Asia and Europe. 

In 2009 he set up S.E.A. Education Consultants, with the aims of providing a specialist service for UK universities that wish to develop their presence in south-east Asia, and offering a professional and comprehensive service to students who wish to study in the UK.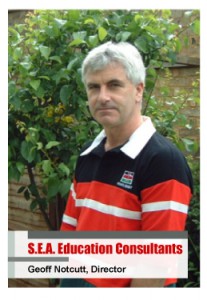 Our International Offices
S.E.A. Education Advisory Services Sdn Bhd (Malaysia)
SEA EAS was set up in 2010, to enable us to offer a full range of business services in Malaysia, including financial, HR and logistics services.
From our office in Mid Valley, Kuala Lumpur, we work throughout Peninsular and East Malaysia, Brunei, Singapore, Indonesia and Thailand.
The operational staff in KL visit our UK universities every year to keep up-to-date on developments, and to meet our students who are studying there.

S.E.A. Education Consultants Co Ltd (Vietnam)

The company is based at our office in Ho Chi Minh City, and was set up to allow us to work closely with schools, universities and students in Vietnam. We focus mainly on three destinations for students: the UK, Malaysia and Singapore
Many students from Vietnam find Malaysia and Singapore are more affordable than the UK, and we mainly represent universities from these countries that are able to offer UK degrees taught in-country under licence. This enables students to gain a UK degree at a much lower cost than through study in the UK.

Malaysia:
ching@seaeducation.co.uk
Vietnam:
lanphuong.kat@seaeducation.co.uk
Russia:
russia@seaeducation.co.uk
Copyright © 2019 SEA Education All Rights Reserved.